About Me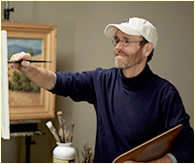 Stuart Roper
Born in North Carolina, I moved to Manhattan in the mid-1970s to attend the Art Students League of New York. My studies included anatomy and figure drawing with Thomas Fogarty as well as figure painting and portraiture with John Howard Sanden. In 1980, I moved to St. Simons Island, Georgia for a year, prior to settling in the state's capital, Atlanta. Over the next ten years, my work included various commissions, both private and corporate, as well as a number of solo and group exhibitions. In the fall of 1991 I made a major move to the small Normandy village of Pressagny l'Orgueilleux, just west of Paris. For the next year, I stayed in the gate keeper's cottage at the Château de la Madeleine, which is situated only minutes away from the home of Claude Monet and the birthplace of impressionism in Giverny. This place and its artistic precedent guided my own paint handling; through plein-air work, I immersed myself in the approach of the Impressionists, which has since characterized most of my painting. In 1993 I moved to the small hilltop village of Fayence in southern France where I remained for the next five years, working under 'a glorious sun.' During this time, my work took me to Italy, Corsica and back to Normandy, all the while enchanted by the light, and concentrating on working within the confines of a limited color palette. In 1998, I returned to the United States, where I settled in Asheville, North Carolina. The Grove Arcade Public Market commissioned me to recreate the original 1920s finials that adorn the top of the building, and the City Parks and Recreation Department also commissioned me on the development of "Grove's Vision", a station on the city's historical Urban Trail. After over a decade of visiting and painting in North Central Texas, in the spring of 2016, a friend pointed out an old farmhouse that she always thought should be the residence of an artist, so I bought the house and moved to Palo Pinto, Texas a few weeks later. The open spaces, wildness and big skies will inspire me for a long time to come.
Memberships
The American Impressionist Society (AIS) signature member
The Outdoor Painters Society (OPS)
Oil Painters of America (OPA)
International Plein Air Painters (I-P-A-P)
The California Plein Air Painters
Awards
Best In Show Award – 8th Annual Art at the OPOMAC 2019
Honorable Mention – Plein Air Southwest 2018
Plein Air Magazine Award of Excellence – AIS National 2015
Best Newcomer Award – Breckenridge Arts Center 2017
Honorable Mention – Arte de los Brazos 2017
Honorable Mention for Artistic Excellence – Salon International 2011
Winslow Homer Award Toe River Arts Council 2010 and 2011
Honorable Mention – The American Still Life – The Bascom Center for Arts
Randy Higbee Gallery Award 2011 – LPAPA's Less is more Exhibition
Third Place 2009 Avery County Arts Council Paint Out
Grand Prize, Concours de la Peinture 1993 Fayence, FR
Medal of Honor Award, Concours de la Peinture 1993 Fayence, FR
Studies
The Art Students League Of New York
Private Studies under Gerry Wright – Philadelphia, PA
Along with ongoing and never ending independent studies.